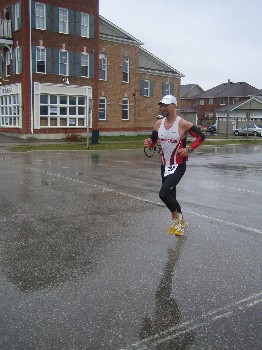 A bunch of us decided to drop in on this race to see if we could win the team title. Since RF is a big sponsor and helps put on the race, it only seemed fitting.

I jumped in on a whim. Haven't done a 5km race in . .. . well, I don't remember how long, so I thought it would be fun. It was! Despite the rain.

Met up with the RF guys and we pumped ourselves up for a good performance.

Lined up at the front, and awaited the gun. No gun, just a count down and miss timed horn from a fire truck! Oh well.

Headed off fast, got to 1km about 30sec before I wanted too. Seems to be the habit of late.

Managed to hold a relatively steady pace for the rest of the race despite the body wholey rejecting the effort from about 3km on.

Ran with or just behind two team mates for the majority of the race. I think we finished 4,5,6,10, 21 overall, which solidly put us in the lead in the team race. I somehow managed to win my AG, which was enitrely unexpected, and to run an 18:20. So quite happy with that.

It was a fun race. The timing was a little screwed up, and we haven't got out awards yet, but it was fun!